Rotation Period
22 Apr 2022 = 8.75 seconds (from the Sun Sensor Data)
23 Apr 2022 = 5.24 seconds (from the Sun Sensor Data)
24 Apr 2022 = 5.23 seconds (from the Sun Sensor Data)
25 Apr 2022 = 5.40 seconds (from the Sun Sensor Data)
26 Apr 2022 = 5.45 seconds (from the Sun Sensor Data)
27 Apr 2022 = 5.36 seconds (from the Sun Sensor Data)
28 Apr 2022 = 5.40 seconds (from the Sun Sensor Data)
AO-73 continues spinning about the Z-Z axis with the Z-Z axis slowly precessing about AO-73's centre of mass in a non-stable attitude.
The "event" on the 22nd April has affected both the spin and the attitude of AO-73 and the latest WOD of 28th April is attached below.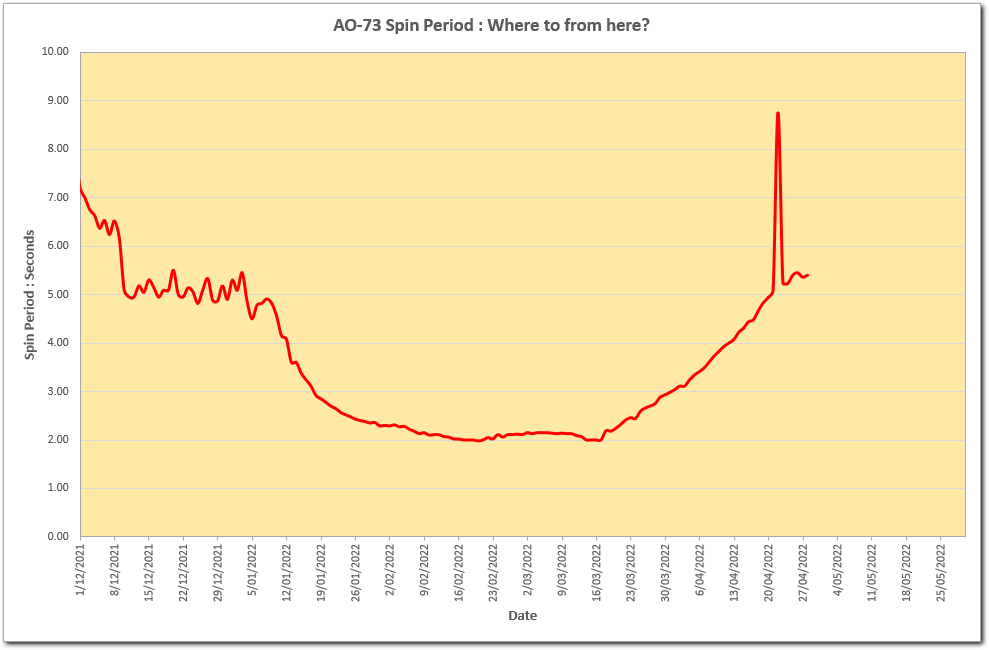 The most recent WOD downloaded from AO-73 on the 0604utc pass over VK on 28th April 2022.
73 de Colin VK5HI.