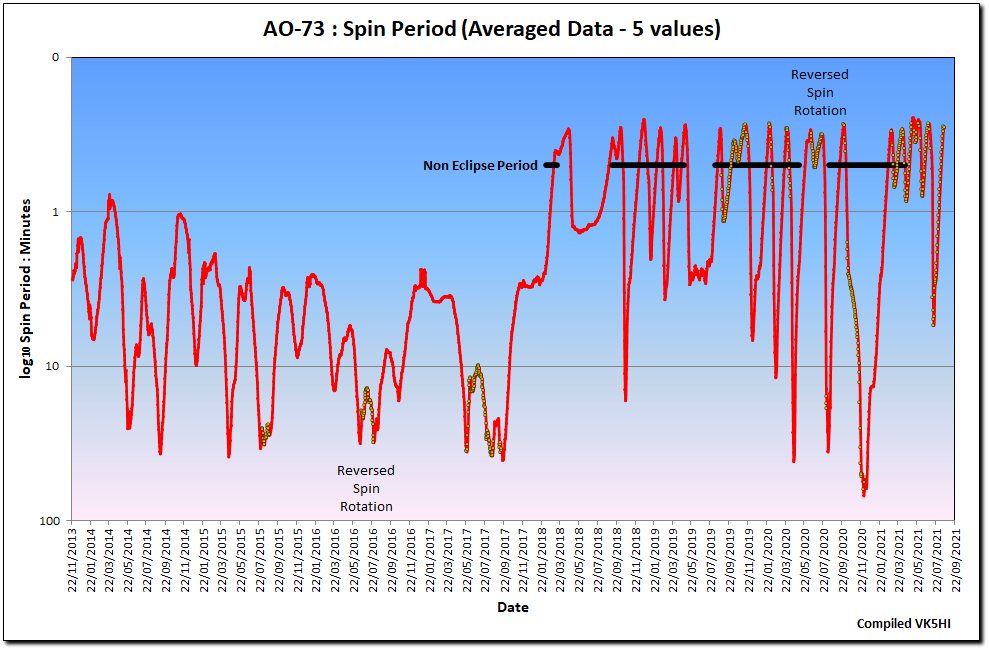 Rotation Period
13 Aug 2021 = 18.1 seconds (from averaged panel temperatures)
14 Aug 2021 = 16.4 seconds (from averaged panel temperatures)
15 Aug 2021 = 15.6 seconds (from averaged panel temperatures)
16 Aug 2021 = 16.9 seconds (from averaged panel temperatures)
17 Aug 2021 = 17.8 seconds (from averaged panel temperatures)
18 Aug 2021 = 17.6 seconds (from averaged panel temperatures)
19 Aug 2021 = 17.4 seconds (from averaged panel temperatures)
Special thanks to Terry VK5GU and Colin VK3HBF for their continued assistance with downloads this week.
As reported last week AO-73 was noted to have commenced "wobbling" about its unbalanced MOI.
On the 16th August this motion about the MOI became significant and we currently have AO-73 displaying a very complex attitude.
Real-time WOD for one orbit from the 0618utc Pass 19th August 2021
Realtime Telemetry over VK 0738utc pass 18th August 2021
73 de Colin VK5HI.